For 250 grams of cottage cheese, you need 1 egg (and preferably 2 yolks), 2 tablespoons of sugar, 3 tablespoons of flour with a slide and a pinch of salt. Sculpt cheesecakes with wide and low washers, otherwise they may not bake in the very center. Fry cheesecakes on both sides until golden brown, over moderate heat for 5 minutes on each side.
Detailed cheesecake recipe
Ingredients for frying cheesecakes:
Eggs – 1 piece
Cottage cheese – 250 grams
Sugar – 2 tablespoons
Flour – 3 tablespoons with a slide
How to fry cheesecakes
1. Mix the ingredients well.
2. Roll the resulting ball into a sausage.
3. Cut with a knife into circles, form a cheesecake from each circle.
4. Pour flour into a bowl.
5. Roll each cheesecake in flour.
6. Heat the pan, pour in the oil and fry the cheesecakes on both sides for 5 minutes.
In our case, we got a dough for syrniki 344 grams.
This dough made 7 medium sized cheesecakes.
Tasty Facts
– Cheesecakes are cooked with semolina, which is used as a substitute for flour. You can also cook cheesecakes without flour and semolina, but for this you need to take cottage cheese with a low moisture content. Due to the fact that cheesecakes without flour are difficult to form with your hands, it is better to scoop up a dough that is not viscous enough with a tablespoon and lower it into a plate with flour, which is used only for breading. Roll the cheesecakes several times in flour and send to the pan.
– Cheese pancakes are being preparedwith various fillers. Dried seedless grapes are added to cheesecakes with raisins – the recommended varieties are Sultana or Gold. Scalded and chopped dried apricots are added to cheesecakes with dried apricots. To make syrniki with an apple, the fruits are rubbed on a coarse grater, then added to the dough for syrniki. Less well-known are syrniki with carrots (raw carrots are rubbed on a fine grater), and syrniki with banana (a banana is kneaded with a fork). Cheesecakes with potatoes (boiled potatoes are put in the dough) and savory salted cheesecakes with finely chopped dill and green onions have an unusual taste.
– Cheesecakes are served with sour cream, butter, jam, honey or condensed milk. Cheesecakes with herbs go well with ketchup and mayonnaise.
– Most often cheesecakes are fried in vegetable oilHowever, they can be baked in the oven and steamed. To make cheesecakes airy, you can add a quarter teaspoon of soda or baking powder when kneading the dough. The advice is relevant if raisins or dried apricots are added to the dough – dried fruits slow down the rise of cheesecakes during frying.
– It is believed that sugar added to cottage cheese thins the dough. This can be avoided by putting sugar at the very end of the batch, just before sending the cheesecakes to the pan.
– Cheesecake – from the word"cheese", and cheese in Russia was called a product obtained from sour milk. When rennet (hard) Dutch, French and Swiss cheeses began to be imported into the country, the name "cheese" was transferred to them, and the name "cottage cheese" was given to the original Russian fermented milk product. But cheesecakes were not renamed into cottage cheese, although the name "cottage cheese" is sometimes used today.
– Calorie curd cheesecakes – about 180 kcal / 100 grams of fried cheesecakes, depending on the exact proportions and fat content of the cottage cheese.
Photos of making cheesecakes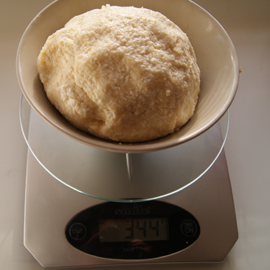 Cheesecake dough Cheesecake sausage Raw cheesecakes Cheesecakes in flour Cheesecakes are being prepared Cheesecakes are ready!