Fry fresh pasties in a large amount of vegetable oil (3 centimeters from the bottom of the pan) for 3 minutes on each side. Deep fry pasties for 2 minutes on each side.

Frozen semi-finished pasties fry in a heated frying pan, slightly sprinkled with sunflower oil, 7 minutes on each side over medium heat without a lid.
In total, it takes 2.5 hours to cook chebureks from scratch.
How to fry pasties
Products
Wheat flour – 4 cups for the dough and 1/4 cup for sprinkling
Minced meat from pork and beef – half a kilo
Onions – 4 heads of medium size
Dill – 1 small bunch
Water for the dough – 1.3 cups
Water for the filling – 1 cup
Black ground pepper – 1 teaspoon
Salt – 1 tablespoon Vegetable oil (corn or sunflower
) – 1.25
cups into a bowl. Pour a third of a tablespoon of salt into the flour and mix well.
Add a quarter cup of vegetable oil, 1 cup of hot water to the mixture and mix well with a tablespoon. When the dough becomes too dense to knead, sprinkle the table with flour and knead (this is "knead") the dough from all sides on the table.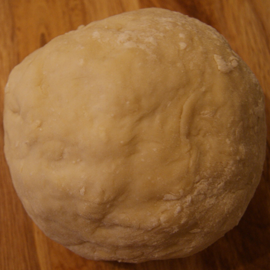 When the dough becomes homogeneous (after 5 minutes of kneading), put it in a bowl, cover and leave at room temperature for half an hour to make the dough even more homogeneous and elastic.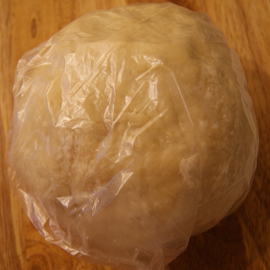 Preparation of the filling
Minced meat, if frozen, defrost, drain the liquid from it and put in a bowl, slightly mash.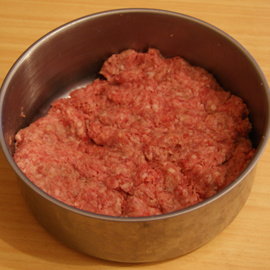 Peel and finely chop the onion (as an option, you can chop it with a meat grinder). Wash the dill, dry and finely chop.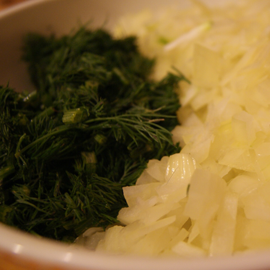 Add the onion, two thirds of a tablespoon of salt, 1 teaspoon of black pepper and 1 cup of water.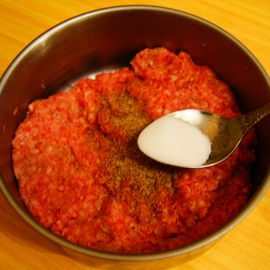 Mix well the minced meat for the filling of chebureks.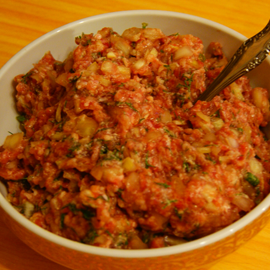 Formation of chebureks Knead the
dough again, roll into a sausage and cut into identical circles. Put the circles in a bag so that they do not dry out.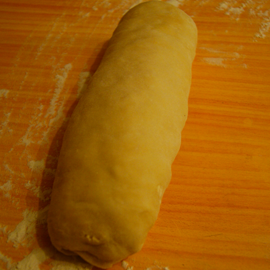 Sprinkle the work surface with flour.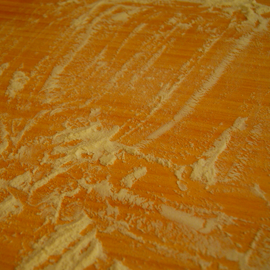 Roll each circle with a rolling pin into a thin circle 2-3 mm thick.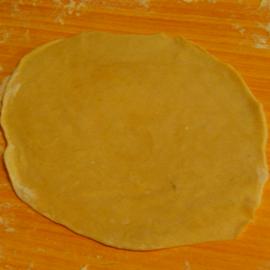 Put 1 tablespoon of minced meat on one half of the dough, spread over the entire surface of the half of the dough (not counting the tips that will need to be pinched).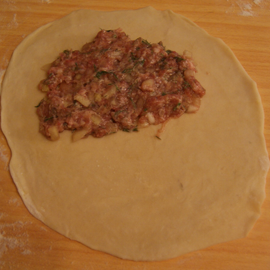 Lubricate the edges of the dough for chebureks with water so that they stick together better. Cover one half of the dough with the other and pinch with a fork – from 1 and the other side. Put the formed pasties on a work surface sprinkled with flour, at a small distance from each other. Because pasties take up quite a lot of space, it is recommended to use plastic bags as a spacer in a stack of raw pasties.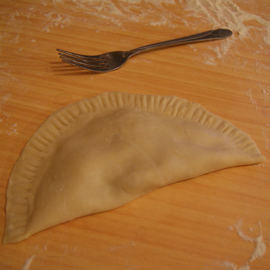 Frying chebureks
Prepare a flat plate for fried chebureks. Heat a frying pan over medium heat, pour 1 cup of oil, wait for the oil to boil. Put chebureks (in a pan 20 centimeters – 2 pieces each).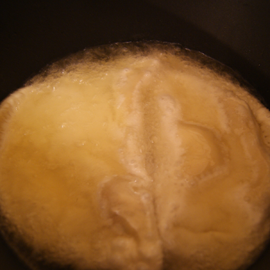 Fry pasties for 3 minutes, then turn over and fry for another 3 minutes.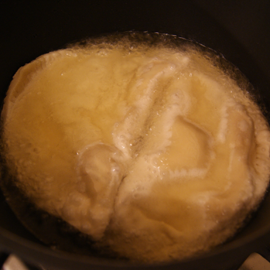 Put the fried chebureks, put the next batch of raw ones in the pan.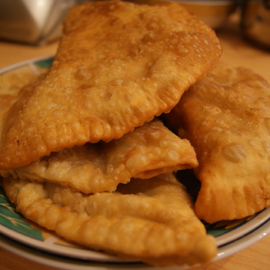 Your fried pasties are ready!
How many chebureks is this recipe for?
From the given amount of ingredients, 11 chebureks will be obtained.
Tasty Facts
How much do food for chebureks cost? – according to our recipe for a dozen chebureks, the price is from 250 rubles. (on average in Moscow as of June 2016), the same number of store semi-finished products – from 400 rubles.
How many calories are in 1 cheburek? – in 1 cheburek about 250 kcal.
How much oil is needed to fry pasties? – for 10 pasties you need 1.25 cups of vegetable oil.
How long to fry chebureks in a deep fryer – 4 minutes, 2 minutes on each side.
Instead of water , in minced meat for chebureks, you can use mineral water, broth, kefir or water mixed with mayonnaise or sour cream. For original chebureks, green or black tea is suitable. If the minced meat is liquid, it is worth adding less water / broth to it.
Instead of minced meatYou can use fresh pork or lamb meat. In this case, the meat must be finely chopped and then used as minced meat.
In order for the dough not to absorb too much oil when frying chebureks , it is recommended to add 2 tablespoons of vodka to the dough when kneading.
If there is uncertainty about the quality of minced meat, it can be fried for 5-7 minutes – and only then mixed with water and used in pasties.
When preparing dough for chebureks, you can use, in addition to vegetable, butter, or peanut butter. It is important that pasties must be completely immersed in oil when frying, otherwise you will get giant fried dumplings: golden bubbles and crispy structure of pasties appear precisely due to complete immersion in oil.
To make the dough softer , you can use 1 chicken egg when preparing it. You can also replace the water partially or completely used in the dough and filling with milk.
Seasonings for chebureks – cumin, ground black pepper, green onions, coriander.
Servepasties for lunch with broth or tomato juice, sour cream, adjika. A salad of fresh vegetables and fresh herbs is perfect for chebureks. Salted or pickled tomatoes can be served as an appetizer for chebureks. You can serve white pasties with cheese.
How long to store chebureks? – Fried chebureks can be stored for 12 hours at room temperature and 5 days in the refrigerator. Store fried pasties in the freezer for 3 months.
Fillings for chebureks
for the same amount of dough
Cheburek filling – 300 grams of Maasdam cheese grate on a coarse grater.
Cheese filling "Suluguni" – 300 grams of suluguni cheese and 100 grams of hard cheese like "Russian". Grate cheese and mix.
Pumpkin filling for pasties – 300 grams of pumpkin and 2 onions. Cut the onion, fry in oil, put the grated pumpkin in the pan with the onion and fry for 10 minutes. Then use as a filling for chebureks.
Chicken filling for chebureks – minced meat 500 grams, 2 onions, salt and seasonings to taste. Cook in the same way as pasties with meat filling. Less liquid should be added to the chicken filling, since minced chicken is more liquid than meat.
Potato filling for chebureks – boil 500 grams of potatoes in their skins, peel, mash, salt and pepper, add seasonings and herbs to taste. Then fill and use as a filling.
Yeast dough for chebureks
Products
Wheat flour – 4 cups
Water – 1 cup
Yeast – 1 teaspoon
Sugar – half a teaspoon
Salt – half a teaspoon
Vegetable or butter – 1 tablespoon
Preparation of yeast dough for pasties Heat the
water, dilute the yeast in it. Add oil, salt and sugar, mix. Add flour and knead the dough. Cover the dough and leave for 20 minutes. Then knead the dough again and start cooking chebureks.