Fry potatoes, cut into cubes, for 20-25 minutes over medium heat. Fry potatoes cooked in their skins for 7-5 minutes until golden brown.
In a slow cooker, fry potatoes for 30 minutes on the "Baking" mode.

Fry new potatoes for 12-15 minutes.
How to fry potatoes step by step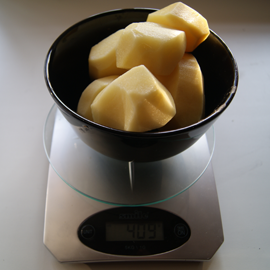 1. Wash potatoes under cold water.
2. Peel the onion.
3. Take a short and not very wide knife, or a paring knife.
4. Peel each potato from the peel and "eyes" over a colander or table.
5. Wash the peeled potatoes under cold water.
6. Take a board and a knife, cut the potatoes on the board into cubes or thin slices.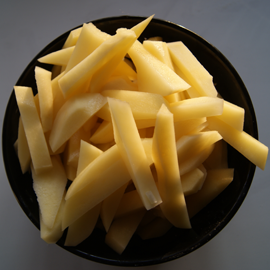 7. Finely chop the onion.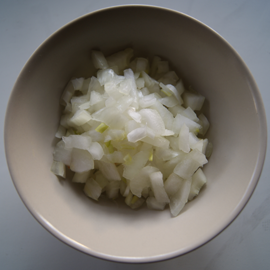 8. Take a frying pan, put it on the stove, turn on medium heat. After half a minute, pour oil – 2 tablespoons, vegetable oil (corn, sunflower or olive) is suitable for potatoes.
9. Put the onion in the pan.
10. Fry the onion for 5 minutes, do not cover with a lid.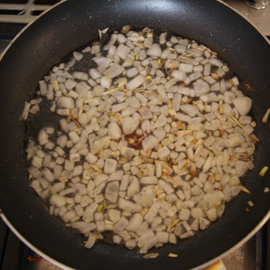 11. Dry the potato pieces thoroughly with a towel so that they do not fall apart in the pan. Then add the potatoes to the pan with the onions.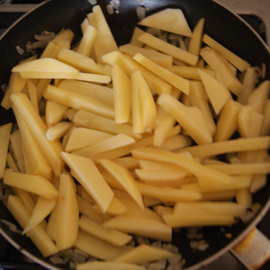 12. Fry the potatoes over medium heat, stirring occasionally, for 10-15 minutes.
13. Cover the pan with potatoes with a lid, fry for another 10-15 minutes over low heat.
14. Salt the potatoes, mix, turn off the heat.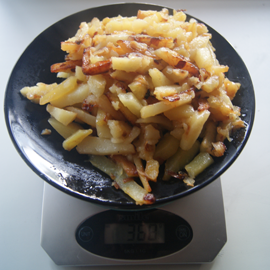 How to fry potatoes by variety
How to fry different varieties of potatoes.
For frying, you need to choose varieties of potatoes with a low starch content and a high content of dry matter, due to which the potato slices retain their shape during the frying process, and do not fall apart in mashed potatoes.
1. Potato Kubinka (another name is the Black Prince).
Fry the "Kubinka" in a pan for 25 minutes over medium heat, in a slow cooker in the frying / deep-frying mode for 25 minutes, stirring occasionally. When fried, potatoes of this variety form a crispy crust.
2. Rocco.
Potato variety "Rocco" has a special taste, different from other varieties, suitable for making chips, french fries. "Rocco" fry in a pan for 25 minutes, young fruits can be fried without peeling, 20 minutes over medium heat.
3. Vineta.
Vineta is suitable for making chips and potato pancakes. Fry the potatoes in a pan for 20-25 minutes, first over high heat, gradually reducing to medium.
4. Lilac.
The Lilac variety has a purple color of the pulp, which does not change during frying, it only becomes covered with a golden crust, the taste of fried potatoes is sweetish. Fry Lilac potatoes in a frying pan over medium heat for 25 minutes.
5. Zhukovsky early.
Zhukovsky early has a thin skin, so there is practically no waste when peeling potatoes. Fry potatoes of this variety for 25-30 minutes over medium heat, 5 minutes before the readiness, add 50 milliliters of water to the pan, reduce the heat and close the lid.
Tasty Facts
If the potatoes stick to the pan , add oil and continue to fry the potatoes, stirring regularly. In order for the potatoes to mix easily, it is important to use a good frying pan, cast iron or Teflon. The frying pan should be dried from water and thoroughly heated. It is on a heated frying pan that you should pour oil and then spread the potatoes.
If the potatoes turned out to be salty during frying, a mixture of sour cream, onions and herbs will help out. Pour sour cream directly into the pan, chop the peeled onion and washed greens. This mixture will absorb some of the salt.
Another way to reduce the saltiness of fried potatoes is to add eggs – they should be fried together, stirring constantly, for 7-10 minutes. The eggs will absorb some of the salt.
Salted potatoes are especially recommended to serve with bread.
Potatoes are an excellent side dish for pork , chicken , meatballs , any fish and sausages . Potatoes are fried with mushrooms , used in vegetable stew ,pancakes , pies .
When slicing potatoes for frying, keep in mind that coarsely chopped potatoes may take longer to cook and require more oil. At the same time, the starchy flavor may not disappear during frying. Therefore, coarsely chopped potatoes are recommended to be put in water for 5 minutes so that the starch comes out, and slightly dry.
It is recommended to cut the potatoes into cubes 1x1x6 centimeters or semicircles 0.5 centimeters thick.
When determining the time of frying potatoes, it is important to consider:
– the youth of the potato – the young one is fried faster.
– the number of potatoes in the pan. If you put the potatoes in 1 layer, then it will fry in 10 minutes, then stew the potatoes for 3 minutes under the lid. If the pan is completely filled with potatoes, then you need to fry it for 25-30 minutes. Keep in mind that a large number of potatoes in the pan will be inconvenient to turn over and it is more likely to burn. If you need to fry a lot of potatoes at once, use more pans. To fry potatoes without oil , you should fry 200 grams of frozen or fresh mushrooms in a pan. Mushrooms form an oily liquid, in which, with active stirring, a non-burnt potato is obtained.
How much to cook fried potatoes in a pan. Peel the potatoes for 5 minutes, cut them for 3 minutes and fry for 25 minutes – 33 minutes in total.
How much the potatoes decrease when frying – from 500 grams of raw unpeeled potatoes you get 400 grams of fried ones.
When to salt potatoes when frying?
Potatoes must be salted at the end of frying, 5-7 minutes before the end of frying. In this case, the potatoes will turn out crumbly, crispy. If you de-salt the potatoes first, they may fall apart when frying.
How much salt is needed for potatoes – 1 teaspoon of salt is needed for 1 kilogram of potatoes.
How much to peel potatoes – peel 1 potato for 30-45 seconds.
How much is a potato– 20-50 rubles / 1 kilogram depending on the season (Moscow, July 2017).
100 grams of potatoes fried in vegetable oil contain 192 kcal.
What to serve potatoes with:
Potatoes are served with ketchup, sour cream, mustard, soy sauce. You can sprinkle potatoes with cheese, herbs (dill, green onions, parsley).
What can you fry potatoes with
Other ingredients – onions, mushrooms, stew.
Microwave fried potatoes Wash the potatoes
well, scrape off the skin or peel, cut into centimeter-thick circles, put on a plate in 1 layer, salt, pepper, put in the microwave at medium power – and after 15 minutes your fried potatoes in the microwave are ready.
How to fry potatoes in a slow cooker
1. Thoroughly wash and peel the potato tubers.
2. Cut clean potatoes into slices of medium thickness so that the potatoes do not break when frying in a slow cooker.
3. On the multicooker, set the "Frying" mode (or the "Baking" mode), set the cooking time to 30 minutes.
4. Pour a few tablespoons of vegetable oil into the multicooker bowl and leave it to heat up for 3 minutes.
5. Then add the prepared potatoes to the oil, leave the multicooker lid open and fry the potatoes for 8-10 minutes.
6. After 8-10 minutes, the potatoes must be gently mixed, close the lid of the multicooker and leave to fry for 10 minutes.
7. Season potatoes with salt and pepper.
8. Gently mix the seasoned potatoes and cook with the lid closed until the signal.
Sprinkle the finished potatoes with chopped parsley and dill, chopped young onion feathers and or chopped garlic.
10. Let the potatoes stand for another 3 minutes in a closed slow cooker.
12. After that, take out a bowl of potatoes and arrange them on plates.
How to fry potatoes with mushrooms and onions
Wash, peel and finely chop 1 onion, put on a hot frying pan, poured with oil, and fry for 7 minutes. Then add the mushrooms – and fry them until cooked. *
While the mushrooms are fried, wash, peel and cut the potatoes into cubes. Add potatoes to mushrooms with onions, fry, stirring occasionally, for 20-25 minutes over medium heat. Then salt and pepper to taste, add fresh herbs (parsley and / or dill) and mix. Add 5 tablespoons of water, cover, simmer for another 3 minutes over low heat.
Cooked fried potatoes – with a golden crust, soft in texture, easily pierced with a knife.
* – If you fry champignons – fry them for 7-10 minutes in a frying pan without a lid; if pickled mushrooms – they need to be fried for 5 minutes to evaporate excess liquid; if the former boiled mushrooms – fry them in time for 5-7 minutes.