Frozen Hawaiian mixture, without defrosting, put on a frying pan heated and poured with sunflower oil. Simmer for 10 minutes over medium heat, covered, stirring occasionally.
How to make Hawaiian Blend
Products
Hawaiian mixture – 400 grams
Vegetable oil – 2 tablespoons
Salt and spices – to taste
How to prepare the Hawaiian mixture
1. Heat the frying pan, pour in the oil. mixes_and_dishes/hawaiian_mix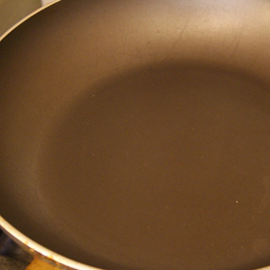 2. Spread the Hawaiian mixture.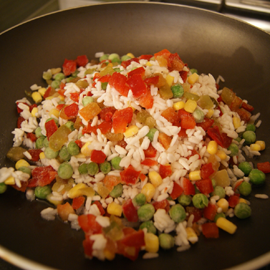 3. Salt and pepper the Hawaiian mixture, add spices to taste.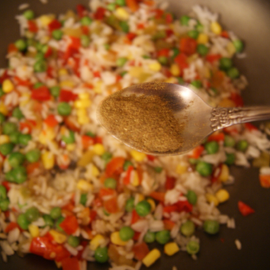 4. Cover the Hawaiian mixture with a lid and cook for 10 minutes.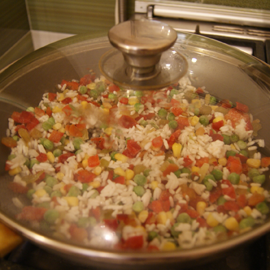 5. Serve Hawaiian Mix Hot!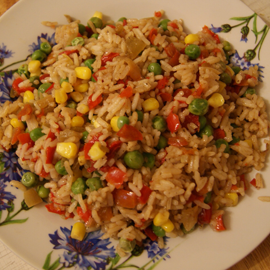 Tasty Facts
Microwave Hawaiian Mix Put the Hawaiian mixture in a microwave
-safe bowl, pour a quarter cup of water, 1 tablespoon of oil. Cover the bowl, put in the microwave. Cook at 800 watts for 8 minutes.
Hawaiian mixture in a slow
cooker Cook on the "Pilaf" mode for 20 minutes.
Hawaiian Mix is ​​a frozen boiled long grain rice, green peas and canned corn from a can, and bell peppers. It got its name not because of its origin, but because of the many colors of the final dish. The cost of the Hawaiian mixture in Moscow stores is from 65 rubles / 400 grams (as of June 2016), however, if you prepare the Hawaiian mixture at home, you can save up to half of this cost.
How to Make Hawaiian Blend at Home
Products
Long-grain rice – 2 cups
Canned green peas – 300 grams
Canned corn – 300 grams
Bulgarian pepper – 3 pieces
Salt and seasonings – to taste
Cooking the Hawaiian mixture at home
For 2 cups of rice, provide 4 cups of water, which are poured into a saucepan. Rinse the rice well and add to the bowl. Put on a quiet fire. Add 1 tablespoon salt and cover. Cook the rice for 20 minutes, then drain the water.
Place green peas and corn in a bowl. Wash the pepper, cut in half, remove the stalk, veins and seeds. Cut in small pieces.
Preheat the pan, pour 1 tablespoon of vegetable oil, put the corn, peas and peppers, fry for 5 minutes with constant stirring. Then add rice, mix well with vegetables and turn off the stove.
Cool the finished Hawaiian mixture, arrange in plastic bags so that each has a pound – and put in the freezer.
When cooking, you can fry the Hawaiian mixture with onions.